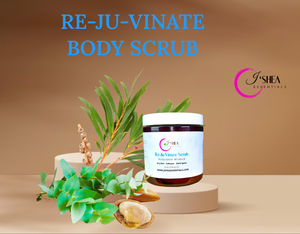 RE-JU-VINATE BODY SCRUB
Sale price Price $12.00 Regular price $22.00 Unit price / per
Nutrient-Rich blend of exotic organic essential oils and brown sugar to gently lift the dead skin, polish and smooth your skin. Helps to maintain a healthier cleansed surface of skin for the most radiant and illuminating results.
Ingredients: Himalayan pink salt, Sea Salt, Brown Sugar, Peppermint and other exotic oils & herbs blend
*FOR ALL skin types 
Apply 1 to 2 times per week. If you suffer from sensitive skin, use once a week. After Stepping out of the shower, pat dry your skin & apply
Jsheaoil
Jshea Hair/ Body Butter
Great when used with Jshea Facial Serum 
Exfoliate face/ bikini line twice a week apply Jshea Facial Serum day & night 
Use sparingly, a little goes a long way!
BENEFITS
🌟 Removesdead skin cells
🌟 Clearing  up blemishes
🌟 Skin Cracks
🌟 Cracked heels
🌟 Skin Peeling, after tanning
🌟 Stretch marks prevention during pregnancy
🌟 Muscle fatigue, aches and tension
🌟 Calluses
📌 Due to shifting of our glosses and scrubs during shipment, you may experience some leakage of the oils upon arrival. This in no way affects the quality of our product and we ask that you simply wipe off the excess oil and retighten the tops prior to use. We continue to work with our manufactures to find a solution to this concern. Thank you for being a valued customer of Jshea essentials
When you look in the mirror and see breakouts, it's probably easy to remember the importance of exfoliating your face, but what about the rest of your body? You're covered from head to toe in skin, and that skin is constantly shedding dead skin cells -- at a rate of up to 50,000 per minute.The problem is that sometimes those dead skin cells don't fall off -- they just build up and clog pores or make skin feel rough. That's why it's important to exfoliate your entire body instead of just your face.